The Paris Agreement has brought renewed credibility for Canada and for many other countries that are now committed to taking much more seriously a reduction in their fossil-fuel emissions. One of the chief complaints voiced by climate justice activists is that unless we address keeping fossil fuels in the ground and never dig them up there will never be an end to those emissions. Just take a look at the gas and oil industries' rapacious movement towards the Arctic reserves, let alone the tar sands.
Although the Agreement is a potpourri of a few legally binding decisions, it is also a repeat of many aspirational declarations, making it difficult to stomach for many scientists, climate justice activists and developing nations. MP Elizabeth May's plea put it succinctly: "Paris threw us a lifeline. Don't let it slip through our fingers."
Politicians from every corner of the globe are calling the Agreement an unequivocal historical victory, and surely it is no small feat to get 196 countries to agree on anything; but the bottom line should be vigorous planetary health, and not just survival. Does this Agreement give humanity a very strict schedule to ensure this health? Or is it just a stepping stone to something more concrete – and, if so, do we really have the time to ponder action for very long? The Agreement will not take effect for quite a few years. Many say it merely voices good intentions that will probably be implemented too late: something that the fossil-fuel industry seems more than happy to see happen.
Back in 1988 NASA scientist James Hansen brought the concept of catastrophic climate change to the attention of the U.S. Congress, and like other scientists he has contempt for a drawn-out timeline in emissions reduction, as well as being upset that the Agreement did not once mention a tax or fee for greenhouse-gas emissions that would then be used to kick-start a revolution in renewable energy for the entire population of the planet. Other activists are not so polite. George Monbiot commented: "By comparison to what it could have been, it's a miracle. By comparison to what it should have been, it's a disaster."
The Agreement speaks of having greenhouse-gas emissions peak as soon as possible, and later in this century to allow only emissions that can be absorbed by our oceans and forests. The desire for a limit to global temperature rise of 1.5 °C, or well below the 2 °C maximum, gained momentum in Paris, and a 5-yearly review of each nation's progress will be conducted. The US$100 billion a year pledged to lower-income nations to help them adapt to climate change will be extended beyond 2020, but Loss and Damage issues kept the Agreement away from actually accepting responsibility for industrial nations' offering compensation to developing nations that did not contribute to the crisis and are now feeling its effects. Other than the scientifically accepted 1.5 °C limit in temperature rise, nothing is really new. It is almost banal to say that finally nations rich and poor accept the perils of climate chaos.
So, yes, if Paris is a lifeline, what are local communities and individuals doing right now to foster greater respect for this planet's fragile biosphere? The answer is to be found outside the halls of government and can be discovered throughout the world. Perhaps that is where nurturing innovation and indeed love for this miraculous Earth can be the true lifesavers.
The summit currently being held in Paris represents the 21st time the UN has held its climate mitigation conference. There are of course countless meetings between the annual events. This year's massive conference of over 190 countries, which includes most leaders and environment ministers, has an urgency about it and a palatable appeal to goodwill and action that have not been present before.
Already three major topics have emerged at the Paris summit that must be addressed if real change is to take place. The first is a limit to the rise in global temperature of 2 °C – and preferably 1.5 °C. (We are already experiencing a 1°C increase above pre-industrial levels.) Fairness, the second major topic, is proving to be highly contentious: less-developed countries quite rightly are demanding that industrialized countries take on a larger commitment to reductions because of their long history of damaging emissions. The third topic, money, has plagued consensus since 2009 when the Copenhagen Accord asked for US$100 billion to be given each year by 2020 to lower-income nations to help them adapt to climate change. So far that money has not fully materialized. In addition, there are two topics that are not on the table: a maximum carbon budget that humanity must not exceed if we are to stop climate chaos, and the taboo word "decarbonization", which some countries, including India, refuse to address because they wish to grow their economies and bring millions of people out of poverty by building new coal-fired power plants.
If the huge climate marches by people around the world are any indication that there is a demand for honest negotiations in Paris, here in Canada that demand was translated into action by our November 29 climate marches, which brought out more Canadians than ever before. One of the many reasons why Canadians voted in a change of government this October was a wish to move away from Stephen Harper's dismal conservation record. The new Liberal government promised many improvements, but is Justin Trudeau doing less than his pre-election pledges suggested? A blistering article in Britain's Guardian on December 3, headed "Trudeau's climate rhetoric is riveting. So what about the reality?", outlines legitimate concerns regarding his climate leadership. Although Canadians may find a kinder and gentler prime minister in Trudeau, his initial allegiance to voluntary national commitments to mitigating greenhouse-gas emissions instead of legally binding reductions underscored the influence that is being exerted by corporations and the US. At the same time he is on record as wanting to place his government's response to climate action on a firm scientific basis. As of today it appears that Canada's government will go further and ask for mandatory assessments on how individual countries are progressing towards improving their own mitigation practices.
On December 7 Canada's Minister for Environment and Climate Change, Catherine  McKenna, announced that Canada will push for a 1.5 °C limit to rising  global temperature. It will also support the collective rights of Indigenous people to be recognised in any agreement, something that the EU and the US oppose.
The 45-page draft of an agreement is now being scrutinized by governments at the climate summit, but there are 900 statements in the draft that are being questioned. In the next article we will see if an equitable solution to what is essentially a climate justice pathway for this Earth has been found.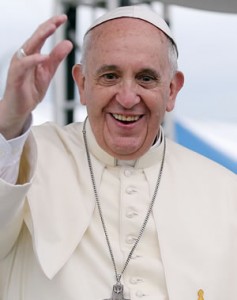 Pope Francis' long-awaited encyclical Laudato Si', subtitled On care for our common home, has been praised by groups as diverse as scientists, anti-poverty and climate justice organizations and governments, as well as by the Dalai Lama and other religious leaders. The encyclical was released to all Catholic bishops in May 2015 and can be read in full at w2.vatican.va  It is an astonishing document. As we might expect, it puts forward a strong moral defence for saving Creation. Climate-change mitigation has become a mainstream ethical response to the myriad assaults on life on Earth.
The Pope speaks passionately about the climate as "a common good, belonging to all and meant for all". As our oceans, forests and rivers are under siege, so too is our very climate, which allows all life to flourish. Justice for all encompasses the right to have an Earth, our home, that does not look "more and more like an immense pile of filth". Furthermore, he admonishes us not to be caught up in a one-dimensional understanding of technological progress: "This has made it easy to accept the idea of infinite or unlimited growth, which proves so attractive to economists, financiers and experts in technology. It is based on the lie that there is an infinite supply of the earth's goods, and this leads to the planet being squeezed dry beyond every limit."
The encyclical points to the growing inequality of wealth and wellbeing as a major contributor to poverty and an increasing source of concern in the fight for justice and care for our only home. "The earth", the Pope reminds us, "is essentially a shared inheritance, whose fruits are meant to benefit everyone." As billions of people are excluded from any kind of food security or housing, so too are they the ones who face migration in the face of severe climate events, he points out.
Although the Pope does not comment on the planet's burgeoning human population as a major cause of increasing climate instability, his critical remarks regarding hyper-consumption, greed, and water and food insecurity, as well as unfettered growth, point to over-population as a key component entrenched in our global problems. He bids us protect "our common home", which means making changes in how we understand the roots of poverty and the huge biodiversity/climate crisis now upon us. "We have to realize that a true ecological approach always becomes a social approach; it must integrate questions of justice in debates on the environment, so as to hear both the cry of the earth and the cry of the poor."
The Pope tells us that "the ecological crisis is also a summons to profound interior conversion." Our home is in jeopardy of being destroyed. We need to have an integral approach or ecology that embraces our common lands, our cultures, and people living in poverty. "I am interested in how such a spirituality can motivate us to a more passionate concern for the protection of our world," the Pope explains. He asks us to educate young people and create a covenant between humanity and Nature.
Please see tinyurl.com/laudato-si-2015 for some of Pope Francis' most interesting statements regarding our planet.
Pope Francis asks us all if we are doing enough to enshrine in government and ourselves a covenant of goodwill towards the natural world. Biodiversity, as the Pope states, is at the mercy of human intervention through a misled understanding of perpetual growth and hyper-consumerism. Inaction on climate has taken on strong ethical dimensions. Justice for the poor and justice for nature demands an empathic response immediately.
General stores and markets have always functioned as places of local commerce, but they are much more than that. Indeed, there is a palpable desire in small towns and villages to bring people closer together as the world's stage becomes more threatening. Recently I paid a visit to two unique stores that provide an unparalleled service at the very heart of their communities.
Kimberley General Store
You can still see the names of boys and girls etched in the bricks of the Kimberley General Store going back a century. In the last four years this little gem has come back to life with gusto as the vision of the owner, Stacie Howe, has come to fruition. Whether you are a resident of the Beaver Valley, a tourist driving by, walking the Bruce Trail, cycling or downhill skiing, the friendly staff encourage you to feel at home.
You only have to go up the wooden steps onto the patio and peer through the large original windows to know that not much has changed since the store first opened its door in 1905. The prerequisite wooden floor, large lighting fixtures and high ceiling (which will be getting an original tin finishing soon), the wood stove in the corner, heaps of vegetables from local farmers in the spring, summer and fall, and homemade fare from pies, sandwiches, and butter tarts to locally crafted chocolates make for a cosy setting for this colourful, community-oriented store.
In 2015, Kimberley General Store more than lives up to the expectations of a store at the turn of the twentieth century: it has all the essential provisions – and much more – that a self-reliant community would have needed to get by before the automobile made it possible to go over to a larger centre such as Collingwood to shop. Like all general stores it sells flour, tea, eggs, milk and other staples, but it also boasts a variety of locally made frozen entrées, cheeses and yogurts, ice cream, hats, bird seed, soaps, essential oils and kitchen needs, all in a small space with a warm and welcoming ambience. On certain days of the week home-cooked foods such as soups, cinnamon buns and pizza are also available. There are delightful and quirky presents to buy and engaging books to read, and an excellent array of teas and locally roasted coffee to enjoy while you peruse one of the daily newspapers. A catering service is also available.
Now that the store has bought the adjoining land and built a covered patio, Stacie believes more people will be coming by to shelter in inclement weather and sample the new pizzas with such enticing names as Mamma Mia, Cherry Bomb and Smokey Delight that come out of the wood-burning oven on Friday nights.
Stacie says: "Come by the Kimberley General Store for a taste of village life. Beautiful setting at the base of Old Baldy rock face, with hiking trails close by. Light lunches, curiosities, groceries, local and organic selections. Strong coffee and treats."
The store is located in the village of Kimberley, 235304 Grey Road 13, in the centre of the Beaver Valley, 30 minutes from Collingwood and 20 minutes from Thornbury.
For more information and store hours see www.facebook.com/KimberleyGeneralStore or call 519 599 3451.
Ravenna Country Market
"Since opening our doors just over five years ago, we have grown into what you, our customers, have asked for: a destination where you can come for nutritious, delicious, homemade treats, lunch, dinner-to-go or to just grab an energy-boosting snack during an active day. If you have not yet stopped in to visit, we hope to see you soon." Monica Wolf, co-owner of Ravenna Country Market
The little hamlet of Ravenna hasn't changed much since the Walter family arrived in the 1840s and the following generations kept it thriving. Although it is only 15 minutes from Collingwood and Thornbury, the elevation of the land, the proximity to Kolapore Wilderness and the pure farming character of the place make it still feel that Ravenna hasn't yet joined the twenty-first century.
After you ascend from Georgian Bay on Highway 2, it is gratifying to see a welcoming sign inviting you into Ravenna Country Market. At first sight or even after looking at a map it may be hard to believe that a store that is located in such an out-of-town place could find such a following of people prepared to make the windy journey. For most of us who do, it is exactly what we wish to find: an oasis of plenty and good cheer. Perhaps an energetic bicycle trip or a car ride out to the country makes those pies and soups even more enticing, but whatever the reason for dropping by, the market is a resounding success.
My visit on a Sunday in February found the store bustling with people sitting down for soup and sandwiches as well as others coming in to choose from the wide assortment of pies and other baked goods for sale. It is clear that the market's customers are interested in having high-quality food, whether to eat in or to take home with them. There is an impressive range of gourmet frozen entrées, all made on the premises, such as goat cheese stuffed chicken, braised beef short ribs, salmon fillet, Sicilian meat loaf, osso bucco and lamb shanks. The menu changes weekly. These takeaway meals are the mainstay of Ravenna Country Market. Happily, vegetarians will also find a good selection there.
Monica Wolf, who is co-owner of the market with Roy Genoe, gave me a good insight into how the store has evolved since she and Roy bought it in October 2009. Besides carrying out a top-to-bottom renovation of the space itself, the owners have kept up with the need to expand their business to cater for an ever-widening spectrum of visitors. This spring and summer will find many more places to sit outside to accommodate the hundreds of cyclists who stop to have a drink and something to eat. Monica described to me their plan to have freshly pressed vegetable and fruit drinks available.
Besides home-cooked foods, there is a colourful assortment of local jams, honey, maple syrup and even clothes for sale. Monica and Roy also offer an extensive catering service for both large and small events.
The market is located at 495972 Grey Road 2 and is open seven days a week. For more information, visit www.ravennacountrymarket.ca or call 519 599 2796.
"With the average age of farmers steadily increasing and the massive environmental impact agriculture can have on the life-support systems of the earth, it became apparent to me that we need more ecological food producers than ever before." – Mike Reid of Kolapore Gardens
There is a real revitalization of our rural area happening. I had the chance to visit two farms to take a look at how their newly established ventures were progressing, and I was impressed to see and feel their dedication and passion for what they wish to achieve on their land. Amy and Patrick's farm is high on a hill overlooking Heathcote and the Beaver Valley while Mike's farm is nestled away next to Kolapore Wilderness area. What links Patrick and Amy Kitchen's Sideroad Natural Farm with Mike Reid's Kolapore Gardens is their mutual emphasis on growing food organically and respecting the fragility of our biosphere.
After having lived in the Beaver Valley for 34 years I have begun to notice a recurring story in our area: young people are rapidly moving in from other places in the country. Patrick and Amy had gone to school out at Simon Fraser University in British Columbia but found it difficult to buy land out west. The fact that family was in Ontario made the choice uncomplicated: good land that was far less expensive than could be found in B.C..  Mike also came to Kolapore from Godrich, and he also has family close by.
Visits to the farms revealed real care, determination and love for the land. It hasn't been easy setting up shop either. Both farms needed infrastructure and the ubiquitous poly-tunnel was built on both farms. Why are these plastic greenhouses showing up everywhere?  It has a lot to do with climate change. In the past 10 years I've watched knowledgeable older farmers build these greenhouse-tunnels to be able to insure that the now increasingly common severity of weather doesn't destroy their crops. They simply can't take on the plethora of risks to their livelihood due to climate destabilization without making necessary changes to how they grow their food.  Water has to be plentiful so Sideroad Natural Farm took up the task of putting in two ponds for irrigation of the crops. Climate change can pose a real challenge when water scarcity can be definitely an issue.
Both farms try to sell their vegetables at our farmers' markets that range from potatoes, spinach to the more exotic kohlrabi. Sideroad Natural Farm also prides itself on the flowers it grows, as Amy is also a fine flower arranger, and flower decorations for weddings is an expanding part of their business. Patrick showed me a dozen hearty healthy pigs while Mike Reid's Kolapore Gardens sells free-range eggs. At the moment the pigs are fed with non-GMO foods and the Kolapore chickens have organic grains. Both farms let their animals forage. These farms are as far as you can get from the industrial-type farm that Canada has been so criticized for recently by World Animal Protection. If you like vegetables you'll be able to buy arugula, leeks, broccoli, squash, tomatoes, kale and more.
For some time now community-supported-agriculture (CSA) has been extremely important for organic farmers. What does CSA mean? By committing to buying a basket of food for a set number of weeks it allows the farmer to have an 'insurance policy' as they can depend on a basic weekly salary by knowing how many baskets of food will be bought. The contents of the basket will change week to week. It is much more than that: communities become more self-reliant when local purchasing of food becomes a reality. For new farmers this is also a way to be a part of the community. Amy feels a connection already to our area. By and large these farms prosper when communities buy and in many instances volunteer to help grow the food. People who volunteer can be local or from other countries who wish to get a flavour of rural farming life. Amy agrees: "Support for local, organic food continues to grow. It's an exciting time to be farming and we can't wait to get out in the field this spring."
Please visit the websites www.sideroadnaturalfarm.com and www.kolaporegardens.com to learn more about our wonderful farmers and their organic food. Support them by being a part of the CSA initiative or visit the farmers at a few of the farmers' markets located in Collingwood, Clarksburg, Toronto and Meaford.
Nova Scotia Permaculture is pleased to announce the following summer classes. It is a great opportunity to learn the basics of permaculture design over 8 weeks.
We are once again offering a PDC on a work trade basis(no fee, no stipend) over a period of  six(minimum, if you just can't stay eight) to eight weeks(which we favor), running through June to the end of July,  and will repeat it in September/ October if we get firm sign up commitments.We are limiting the course to a maximum of five, so don't hesitate too long in signing up. Pretty close to full attendance  will be required to receive a PDC certificate.
This will be a very hands on experience, including smaller design projects on the site,  general farm work(chores, goat milking, hay making, maintenance etc) helping/cooking in the kitchen, as well as substantial market gardening time. (You can learn a lot just by walking around here.)This will be balanced by classes, presentations(some by you!) and field trips, as well as time doing design projects. Although the schedule will be intensive, especially with the long days of summer,there will also be time for personal study/ reading, and at least one free day per week. We will provide food and lodging, though if you have specialized dietary requirements(we're omnivores, and 98% of the meat is from here), that will be your own responsibility. We are mostly interested in self-motivated folks with some work experience(some basic knowledge of hand & small power tools very useful), although attitude and willingness count alot too. We will ask that you leave your cell phones and earphones/ipods behind while were working or studying together, so be fully aware of that, please. Further details/ info will come later in the process, and you can read our MOP internships page for further details.
If you are interested, please contact me, and include some basic personal info about yourself, your interests and experience, and why you want to do this. Thanks, Alex
contact: alexdenicola at hotmail.com
1217 Belmont rd. RR2 Newport B0N2A0
Please see the website: http://www.novascotiapermaculture.net/
"In the leaking ship that we've made of our planet, the Transition movement is like a flotilla of life rafts. And they've come not to pull us off the earth, but to help us patch it and make it right."
– Bill McKibben
In early December fourteen people from the Meaford and Beaver Valley area came together to continue to work on making their community a healthier and more self-reliant place to live. I had attended a meeting of Transition Meaford two years previously and found that there is a growing interest amongst the townspeople in creating a more engaged society so that people and the rest of Nature can flourish.
In 2013, Meaford Council adopted the recommendation by Transition Meaford to have an Earth Week. This took place in April 2014, beginning with a spring clean-up at Memorial Park, and ending with a Re-use Fair. Lindy Iversen and other Transition Meaford people were on hand to volunteer. The tradition will continue in 2015.
Transition Meaford has been involved in a number of other projects. The group has played a significant part in the community garden at the high school. Films for Thought was set up to promote greater awareness of social justice and ecology around the world, through screenings of films that gave the community insight into ongoing struggles related to food, water, community design and waste. The Bee and Butterfly Habitat Initiative brought to the forefront the plight of our pollinators.
The group would love to meet other Meaford and area residents who care about the future of their community. Meetings are held on the second Wednesday of each month at 7pm at EcoInhabit on Old Highway 26, east of Meaford. Next meeting is on January 14th. To find out more, visit www.transitionmeaford.org
Live in Collingwood? Transition Collingwood's initiatives can be found at transitioncollingood.com
How did the Transition movement come about?
Back in 2005 people in Totnes, UK began to ask themselves how they could thrive in the face of climate instability and oil scarcity, and thus the first Transition Town was born. The vision of a resilient community that could support itself culturally and agriculturally despite the problems raised by these twin threats inspired the Transition Network, which has spread within ten years to encompass the world. By not having any political affiliations the movement has been able to gain the trust of entire communities. This has led to close working with all segments of society.
To the amazement of founder Rob Hopkins, the accomplishments of the expanding Transition Community now include social justice issues as well. Places like Brazil and India are more interested in alleviating poverty and empowering women than discussing northern concerns for climate change mitigation strategies. The Transition movement is embracing more and more topics that impact the health of communities, to create a Transition Culture that looks at the causes of consumerism and the growth economy and changes the very soil of the community's culture and inner life. It transitions towns to the 'caring economy'. (It must be noted that the opposite of this is shown in the lack of balance and compassion in Canada's skewed oil-based economy.)
Several towns and cities now have their own local currencies, which encourage their communities to buy locally produced goods and thereby recycle their money to keep their own businesses vibrant. The benefits come full circle. The city of Bristol, in Britain, even pays its mayor in Bristol Pounds! Having a local currency has fostered a deep sense of trust in the community. Bristol has now won the prestigious award of European Green Capital 2015.
Please visit www.transitionnetwork.org to learn more about the Transition movement.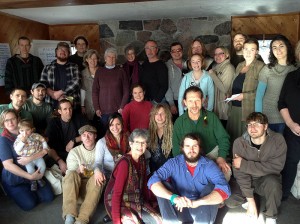 Kimbercote Farm is located on a hill that looks down on the Beaver Valley and beyond. For the past 40 years it has provided physical and spiritual space for people to grow. It's brochure describes the Farm as a "Centre for social and environmental justice in the heart of the Beaver Valley". The Farm's 110 acres has provided the Georgian Bay and Southern Ontario communities with a unique opportunity to experience a country setting for events, retreats and a vast array of discussions that take place because of the dedicated volunteers who have kept Kimbercote alive and well with their creative zeal for four decades. Although the focus of the Farm's activities may have shifted through the decades social justice has always been the bedrock for all its charitable not-for-profit work. As the meaning of social justice has expanded in the last 40 years, so has inclusion of nature stewardship become more important to the Farm. Gardening, permaculture, forest ecology programs, the truly hands-on efforts by Sticks & Stones Wilderness School plus Headwaters Gathering groups have put new meaning into conservation education and practices in sustainability. And so Kimbercote has championed and nurtured aboriginal culture, organic agriculture, faith/spiritual groups, children, families as well as men and women's retreat groups. The farmhouse has been the key to letting the Farm host year round 25 guests at a time plus tents.
The Annual General Meeting on December 7 brought out 60 individuals of all age groups. No one has ever seen such a large group come out to such a meeting at the Farm. Kimbercote Farm is in financial trouble but it is not without its friends. This place means a great deal to many people. This year's AGM brought out the people for the love of a Georgian Bay community icon. The usual AGM business of voting in board members was not the focus of the meeting so much as an inspired discussion on the future for the charity. Although the current debt is quite small fewer groups are renting the space in an ageing farmhouse but the maintenance of the facilities keeps on growing.
The members attending the meeting were asked to have small discussion groups and write out their suggestions to be presented to the new board of directors who will then make the critical decisions as to the Farm's future. Three proposals were given to the group. Naturally the community wishes to see a vibrant and financially secure future for the Farm. Thoughts of renting out the farmhouse on a yearly lease, seeing the sale of some acreage to conservation groups and having Sticks & Stones Wilderness School play a more active role in programming may be the starting point for the end of the charity's woes.
The crisis now being experienced can transform Kimbercote into the Centre for Community and Ecology, as mentioned at the AGM, and give true meaning and tangible direction to the founders's original goals of social justice. A possibility/option exists to sell the facility and purchase a new one which puts a major focus onto program development for youth and families, provide dialogue with other communities and "support community/ecology locally, regionally and provincially." Programs would start in early 2015 for children. SSWS would share programming efforts also. A legal trust would also be created to insure "trust funds go to social justice innovators if the sale of property occurs in the future."
The other option spells the sale of the land and basically giving the money to like-minded foundations. The new Board's occupation will be one of courage and vision. We wish them wisdom. It is more than just putting into place short term financial solutions. Kimbercote's core community needs to now put into play the creative ideas and passion to bring it to 2050.
If you wish to learn more about the Farm and perhaps help in various ways please visit:
www.kimbercote.org or write to info@kimbercote.org
"We can no longer continue feeding our addiction to fossil fuels as if there were no tomorrow. For there will be no tomorrow." – Desmond Tutu
The People's Climate March on September 21st was more than a protest. The World Council of Churches, individuals and many universities are now divesting from fossil fuels. If the heirs to the John D. Rockefeller oil fortune are now committed to getting rid of over $800,000,000 in oil and gas stocks, what's next? Rob Hopkins, founder of the Transition Network, had this to say: "The People's Climate March made it clear that while some may choose to retreat from the inevitability of change, many more are embracing that change with passion, creativity and an unstoppable force."
That the UN Secretary-General, Ban Ki-moon, came to the People's Climate Rally in New York and walked with conservationists such as Jane Goodall is unprecedented. (Please see www.peoplesclimate.org and https://vimeo.com/106898420) Although the walk I attended consisted of just 20 people in a small town, those same people vowed to meet regularly, and the next gathering was held just a week later to discuss how to engage the people who are most vulnerable to climate instability: those aged under 30.
The Climate Summit at the UN on September 23rd brought world 'leaders' to the table in order to establish a renewed action plan to combat climate instability. Only a few heads of state did not show up. On September 22nd Parliament's Question Period was spent trying to find out why Stephen Harper was not going to attend the UN Climate Summit. Instead of giving a direct answer to the opposition party's request, a government MP read out prepared bureaucratic statements that gave false accounts of Canada's current scientific efforts in reducing greenhouse gas emissions. This was on the day after more than 600,000 people, including many First Nations Canadians, marched for climate action. Please see http://thetyee.ca/Video/2014/09/25/Idle-No-More-Organizers-At-NYC-Climate-March/. The closest march to Collingwood and Meaford took place in Owen Sound.
This Canadian government is the only one in the world that has withdrawn from its treaty obligations described in the Kyoto Protocol. Recent scientific analysis shows that CO2 is rising faster than it has in nearly 40 years, but of course this prime minister was not going to appear at a summit that calls for fundamental reductions in CO2 emissions. He and his caucus are completely blinded by oil revenue.
Climate change will ravage this nation's economy, our biodiversity and the people of Canada within less than 100 years. The largest climate march in history was meant to finally kick-start the world's rebuff of fossil-fuel usage. Be part of that solution and divest your fossil energy stocks.
By David Suzuki
When we elect people to office, we give them power to make and enact decisions on our behalf. They should have a vision that extends beyond the next election and the latest Dow Jones average — to our children and grandchildren.
We expect our leaders to have a clear picture of our world and the conditions necessary for human life and well-being. If they don't, how can they make informed decisions? So let me outline some simple, scientifically validated truths about us and the world we live in — truths that should guide our political decisions.
We are, above all else, biological beings, with an absolute need for clean air from the moment of birth to the last death rattle. We take air deep into our lungs and filter whatever's in it. Plants on land and in the ocean take in the greenhouse gas carbon dioxide and release oxygen during photosynthesis, creating the atmosphere we depend on.
We are about 60 per cent water by weight, so we need clean water to be healthy. When water falls to Earth, it's filtered through tree and other plant roots, soil fungi and bacteria, cleansing it so it's safe to drink.
All the energy in our bodies that we use to move, grow and reproduce is sunlight captured by plants in photosynthesis and converted to chemical energy, which we ingest. We eat plants and animals for our nourishment, so whatever they're exposed to ends up in our bodies. We need clean soil to give us clean food.
These are basic, biological facts and should be the prism through which any decision is made at individual, corporate or government levels. Protection of air, water, soil and the web of life should be the highest social, political and economic priority.
We're also social animals. Scientists have shown that love during childhood is essential for healthy development. Children who are deprived of love at critical points can develop a variety of physical and psychological deficits. To avoid those, we have to work for strong families and supportive communities, full employment, justice, greater income and gender equity and freedom from terror, genocide and war.
Finally, we are spiritual creatures who require sacred places, a sense of belonging to the world and a recognition that we are not in charge of nature, but dependent on the biosphere for our health and well-being. We are not outside of nature; we are part of it.
To be fully healthy and human, our most elemental needs are biological, social and spiritual. Politicians ought to know this. Their role is to protect and enhance those necessities of life; otherwise there is no vision, direction or leadership.
That's why it's absurd for a politician or government representative to speak about any aspect of the economy without acknowledging the threat of human-induced climate change. Many oppose doing anything on ideological grounds, but the science is overwhelming and compelling, and the need for action is clear. What can you say about "leaders" who choose to ignore the best available evidence to the detriment of the people they are elected to represent?
Surely those who act only for short-term economic gain, imposing destructive consequences on generations to come, must be held responsible. We must also consider the consequences of rapid and excessive exploitation of fossil fuels on the world's poorest people, who have done little to create climate change but are most affected by it.
Even though Canada ratified the legally binding Kyoto Protocol, which spelled out our obligations to reduce the risk of climate change, many of our "leaders" have wilfully ignored scientific evidence and urgent calls to meet the protocol's targets, and Canada eventually abandoned the agreement. What should we call that?
And what can we say about "leaders" who can see something is wrong and have the means to respond but choose not to? This is what Canada is doing — in the face of overwhelming evidence and pleading of other industrialized nations.
Our elected representatives deserve respect for their commitment. But the elevated status and power of politicians also carries responsibilities. Many are abrogating those responsibilities for ideological reasons that have nothing to do with our well-being.