Greta McGillivray, Malcolm Kirk and Donald Kerr are amazing people who are passionate about protecting nature. Their deep commitment to nature has been the source for many vital initiatives in the conservation movement in our area. Although the three are all "retired" for some time now, the work they have done and do for their sacred Earth is an extremely important legacy. More than ever society needs to know what is being accomplished by "green" citizens in order for both adults and youth to see the alternatives to the destructive consumerism that has invaded our daily lives. All too often people forget that the economy rests on the expansive green shoulders of our biosphere. These three brave and sometimes outspoken elders have opened up the possibility for true change.
Malcolm Kirk
"By inspiring youth the conservation ethic will grow as they grow and as the need to protect nature becomes universal."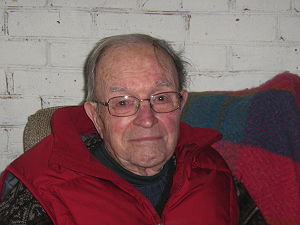 On November 14, 2008 just before Stephen Lewis spoke at a sustainability conference at Blue Mountain Resort, Malcolm Kirk was honoured with the Lifetime Achievement Award for Conservancy by Bayshore Broadcasting Corporation. It should be noted that Malcolm is the first person to ever receive this award and future awards will bear his name. This is only one of many awards this great man has received for his determined efforts in making it quite clear that biodiversity is the foundation for all prosperity on Earth. The introductory accolades set the tone and the history of Malcolm's stewardship activities in our area. True to form Malcolm spoke more about the work that was being done by a younger generation than about his successful career as a forester and conservationist. Here is a man who almost single handedly protected many thousands of acres of land, by working with local land owners. As the Resources Manager for the former North Grey Region and Sauble Valley Conservation Authorities between 1957 and 1973, Malcolm worked tirelessly to buy land that were treasures of biodiversity: Skinner's Bluff, Rocklyn Creek, Indian Falls Old Baldy (The Rock), Sky Lake, Bruce's Cave and Bognor March are just a start of the list! After 1973 Malcolm moved on to inducing the Ontario Federation of Naturalists to start a land conservation program. He and Fred Bodsworth began a program that now includes such nature reserves such as Petrel Point, Long Swamp and the Malcolm Kirk Nature Reserve. His book, "Islands of Green", written with S. Hilts and R. Reid, lays out protection strategies for Ontario's landscapes. Those of us fortunate enough to have walked in the woods with Malcolm have been inspired by his profound knowledge and his abundant passion for nature. What book does Malcolm recommend you read? Bill Bryson's "A Short History of Nearly Everything" is both light hearted but very informative. Malcolm and his wife Joan live in Thornbury.
Greta McGillivray
"We have to reinvent ourselves as a species. We need to recognize other species as being important. We are capable of reflecting back upon creation. Hopefully we are living in a moment of grace where humans will move towards the thinking that we can really cherish and learn to protect wonderful nature that we have been given."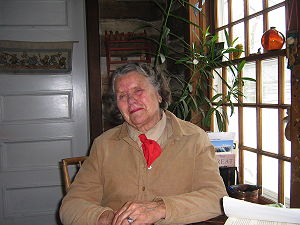 Greta McGillivray understands that humanity is only one of millions of species that have the right to be on Earth. To speak to Greta is to immediately realize that not only is she a leader among conservationists but one of our deepest thinkers. She has inspired many people to read the philosophers and naturalists that have shaped her own thoughts and actions.
To say that Greta is a leader and visionary among her fellow citizens is an understatement. She has unflinchingly supported and fought for an ecologically balanced society. Her work as a founding member of the Senior League Endowment Society and the Blue Mountain Watershed Trust Foundation has created lasting results for Georgian Bay communities. Her continuous vigil over the Silver Creek Wetlands has stopped the wholesale destruction of a pristine part of our natural heritage. With fellow Senior League member, Malcolm Kirk and others, $100,000 was raised to purchase the Feversham Gorge. As well, Greta was a commissioner for the Niagara Escarpment Commission and served as a Director of the Ontario Heritage Foundation.
Greta has found it to be extremely important to work with youth as well. In the schools and out on the land this elder has accomplished some remarkable successes. Recently, Greta has worked with the Ministry of Education from Quebec when they visited Collingwood to see how the grassroots level of support for a significant wetland can inspire Quebec youth to be stewards of natural spaces.
Greta recommends reading Bill Plotkin's "Nature and the Human Soul". She lives in Collingwood.
Don Kerr
"I believe that the loss of biodiversity is the overarching issue that requires remedial action to prevent continuing loss of the quality of life on planet Earth… Expect a growing split between those who espouse more growth and those that perceive that something is wrong. We don't have a culture that believes in the sanctity of nature."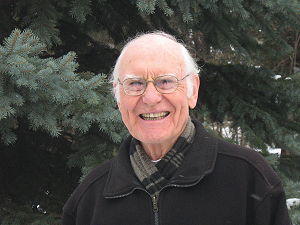 It is a joy to take a walk with Don and his partner Gail Worth: binoculars in hand they break into bird song constantly trying to coax a friend to come nearer. It was Gail's great knowledge and inspiration that has led Don to be such a steadfast defender of nature. They have donated around 850 recordings of bird vocalizations to Cornell University as well as to both the Royal Ontario Museum and Canadian Wildlife Services.
Don is best known in our area for his work as a director with Blue Mountain Watershed Trust Foundation, which has had Participant status with the Ontario Municipal Board. He has been the lead person in the Foundation in working on various important issues surrounding our wetlands. He will be making several proposals to Gord Miller, Environmental Commissioner of Ontario, in the near future, on making the OMB work better for all of Ontario. Don has been the key figure in trying to protect and make our natural heritage a priority in our area. He has spent most of his time trying to stop further development of the Silver Creek Wetland area that has been in constant danger of being torn apart for more unwarranted housing. In fact, he has spent considerable time bringing forth cogent arguments for human population growth being curtailed if such growth cannot be construed as being ecologically sustainable. He has worked closely with the Simcoe Area Growth Management Strategy. Population has long been a major factor in deteriorating habitat for endangered species. Don has spoken to the local Probus Club, Rotary Club and other civic organizations concerning inappropriate growth and development.
Don recommends reading Richard Wilkinson's "Impact of Inequality". Gail and Don live in Collingwood.
Instead of asking for more things this holiday season, let's act to embrace the conservation ethic these three people have so lovingly celebrated.