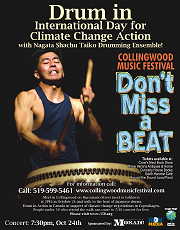 On October 24 at 3:50 PM join Georgian Triangle Earth Days Celebrations, Collingwood Music Festival and the Nagata Shachu Taiko Japanese Drumming Ensemble as we start our walk for Climate Action on Hurontario Street at the Loblaws supermarket and make our way south up Collingwood's main street. We have a banner that was made by youth. We will be giving out flyers to people urging them to work together to lower greenhouse gas emissions to 350ppm in our atmosphere. For those who wish to get back to the start of the march , where you left your cars or bicycles, a van or the Collingwood biobus will will take you back at 6 PM.
RAIN/BAD WEATHER CONTINGENCY DETAILS FOR OCTOBER 24 MARCH: If it is bad weather, please meet at 4:30 pm at New Life Church where our drummers will be ready to greet us. For those who wish to walk rain or shine, the march still starts at 3:50 PM at Loblaws and Hurontario for 4:30 PM arrival at New Life Church. We will be drummed around the large foyer and the gym at that time. The rest of the day will go on as already planned with a 350 photo in the gym instead of being outside. That photo will be part of the 350.org collage of photos shown in Times Square, New York City for the next few days after the Day of Action.
Postcards to our Prime Minister, urging his government to ACT NOW on climate mitigation, will be distributed- no postage stamp required. Also, we will be asking the Canadian, Ontario and municipal governments to do more to stop global warming. (Download Postcard)
Since youth will be most affected by climate change in the next 30 years, they will play an important part in the walk. Our banner will be held by many people. A photo will be taken of our group at the end of the march; we'll be in the shape of 350. For those who wish to get back to the start of the march , where you left your cars or bicycles, a van or the Collingwood biobus will will take you back at 6 PM. From 5 PM to 6 PM there will be educational and fun activities for all age groups. David Lawless, a youth delegate from the recent September UN Climate Conference in Geneva, will speak about climate change and ACTION to youth at 5:30 PM. The concert starts at 7:30 PM.
We are working with people from Collingwood, Barrie, Orangeville, Thornbury, Meaford and Owen Sound. Please participate and be the change. Humans and other species need to return to a safe planet.
At 7:30 PM the Drumming Ensemble will give a concert and dedicate some music to this important Day for Climate Action. There will be Nature displays in the foyer of New Life Brethren Church (28 Tracey Lane & Hurontario Street), where the concert will be taking place. People under 35 (those who are to be most affected by climate change) who attend the walk in the afternoon can come to the concert for free- free passes will be given out at the end of the march!
Please see www.collingwoodmusicfestival.com and www.georgianbayearthdays.org for more information. We are encouraged to hear that the other 350.org Collingwood 100 Mile Green Meal is pleased to support the 3:50 PM walk for climate ACTION. In order to have a large turnout, we will be spending the next few weeks before October 24 giving the power point slide show that 350.org has on its website as a launch for further discussion in schools, libraries and other community centres. For example, Collingwood Library had a 350 slide presentation on Saturday October 17 at 2PM. The presentations look at how a target of 350 parts per million of CO2 encompasses many directions for civilization and a return to a stable holocene era. As well, the Library is giving out our 350 flyer as book marks when you take out a book.
Please join us and help us make a banner at the Library all week long till October 24!